Ok, everyone!! This is a story of a very sweet woman name Katie! She is a missionary in Uganda, serving as a teacher. She has really been an inspiration to me through her blog called:
The Journey !
Just her header picture speaks volumes to me!

We ALL belong to JESUS, who loves each and everyone of us unconditionally!

WOW, just the connection we have to other people who believe in Christ, simply is AMAZING!


The History(of Amazima Ministries):

This is Katie holding a sweet little girl named Josephine.

Katie tells her story how she was enthralled by her the moment she saw her.

Josephine was very ill, but had gotten better.

Katie prayed and prayed over her about a forever family for Josephine.

Long story Short:

A close couple to Katie choose to adopt her, but when Josephine was having a routine exam before coming to the U.S, she testes positive for TB and HIV, however, this sweet couple still believed in the Lord's calling on their life to adopt her.

Josephine is being treated at this moment, but is soon to be at home in the U.S.=)

Katie and her family have a organization called Amazima.

Her family and her would be FOREVER greatful to your generous heart!

make checks payable to Amazima Ministries and send to:
Amazima Ministries International
** If you make a donation by check, PLEASE include your email address, so we can email you a thank you. By saving 42 cents on a stamp, we can provide a child with THREE meals.**
or you can CLICK HERE and visit
and donate using your debit or credit card (right sidebar)
Here are some of the needs of the ministry:
Donate a blanket to an Amazima child for $10.

Donate a seed packet to help start the Amazima Community Garden for $5.

Donate a chicken to help an Amazima family become more self-sufficient for $10.

FOR $15, you could provide enough meals to feed 35 children!!!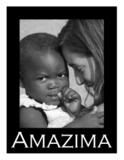 Thank you for reading! May you be blessed today!
This is one of Katie's videos that I found:


Uganda Children singing ''Jesus, you're my firm foundation''

How Sweet

Feel Free to Grab my Fabulous Friday's button....

I will share some interesting things in the next couple of weeks!!!

Pass it on....